Written by: Manvi Singh
Indian Golfer Tvesa Malik finishes 11th after a great start to the season. Among other Indian golfers Aditi Ashok finished at T20 and Vani Kapoor at T29th.

Gaurika Bishnoi (71) was T-35th. Amandeep Drall, Ridhima Dilawari and Astha Madan missed the cut.

Aditi Ashok (Source: LET Golf)
Tvesa, who had a bogey free second round, had six birdies aginst two bogeys in the final round.Overall Tvesa was left wanting on the scoring Par-5s, where she had three bogeys over three days besides a double on first. That meant she dropped five shots on Par-5s. Despite that she ended only seven off the winner.
Tvesa Malik (Source: LET Golf)
For the first time in Indian golf history, six-woman players are playing at the same Ladies European Tour event. While Aditi holds a lower handicap, Amandeep Drall is tied 56 at par, Tvesa Malik, Gaurika Bishnoi and Vani Kapoor are tied 68 at 1 over, Ridhima Dilawari at 3 over tied 92 and Astha Madan tied 122 at 9 over.
Chloe Williams (Source: LET Golf)
It is a two-way tie at the top of the leaderboard as Chloe Williams and Marianne Skarpnord both finished day one of the Swiss Ladies Open on eight-under-par. Williams, who went out in the second group this morning, set the clubhouse lead after shooting a bogey-free round of 64 which included eight birdies.
Four players are tied for third place on seven-under-par including Swiss amateur Elena Moosmann, who is 13th in the LET Access Series Order of Merit.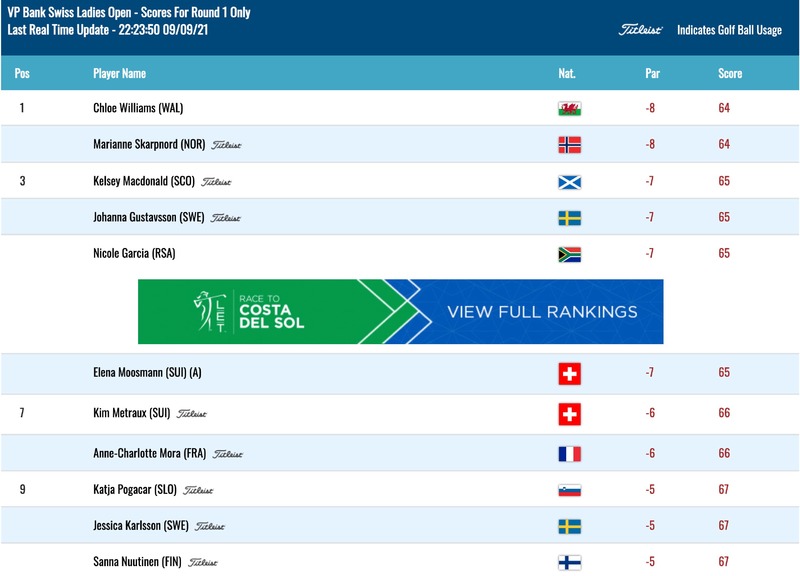 Leaderboard at the end of Round 1 for Swiss Ladies Open