Coming out of the smoky shadows , they celebrate the legalization of Hemp. The elated mood to roll spliffs and get a head start with a cheer going up before the official announcement of Marijuana becoming legal.
We have our own HIGH reasons for this. Let's get into the rule that has gotten the whole country abuzz.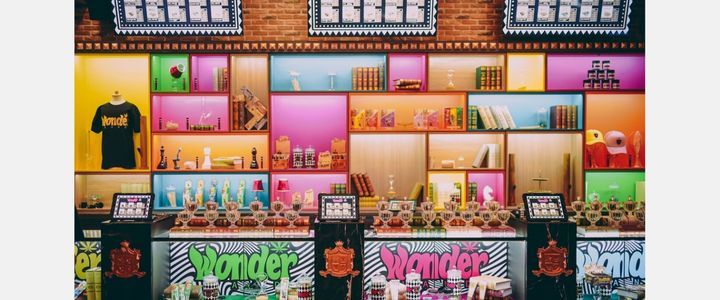 A cannabis store on Sukhumvit 5, Bangkok
2018, a New Year's gift of the Thai government to its people- legalization of Marijuana! While introducing marijuana bill in Parliament, many favored for and many favored against.

Time flies and here 2022 arrived, when the Thai Food and Drug Administration conventionally eliminated cannabis plants from the Category 5 narcotics list. The year 2022 came by, when the addicts of the country had it on their dining table for Possession, cultivation, distribution, consumption, and sales of all cannabis plant parts very much legally.

"We have all types. We have this one that is more for excitement, we also have some if you want to feel creative, talkative, focused, to go partying or to feel relaxed," says Kornpatthipong or "Buddee," who works in a weed truck strategically parked next to a famous nightclub.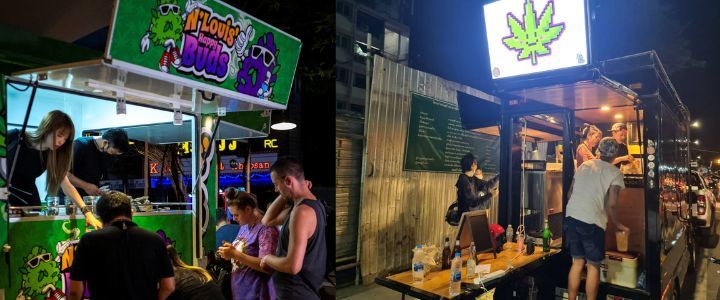 Vans selling Marijuana

The busy streets of Thailand are now moving on wheels selling different types and tastes of Marijuana mentioned in the full food menu style. The four wheels drive around the city selling legally and openly the marijuana products and buds. This new craze can be commonly found offering customers buds labeled by different names and effects.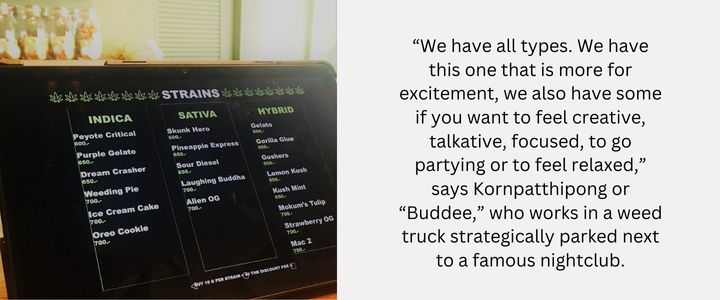 Menu of a cannabis restraurant

Creativity is an essential factor in this. The advertisement definitely catches the gaze of passers-by who all drinking and partying come to buy a joint on weekends. The real boom are these flashy lights, music and the friendliness of the vendors who sell these pre-rolled joints.

Post- COVID scenario of cannabis legalization in Thailand seems to carry an important aspect as the cannabis business is germinating at a great level where everyone is waiting with bated breath to have the green leaves in their veins.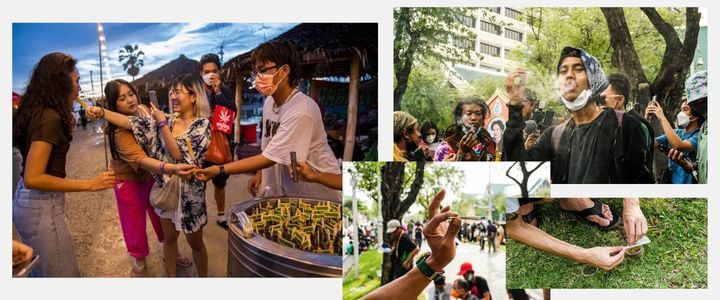 In 2020, 8.6% of Thailand's GDP came from agriculture, forestry and fishing, according to the World Bank, while tourism accounted for up to 18% of the country's GDP before the Covid-19 pandemic.

Also before Covid-19, GlobalData predicted "health and wellness tourism numbers in Thailand will increase to 27.7 million by 2022, representing a compound annual growth rate of 5.6% from 2019". It added that it expected the country to become a key destination within Asia for health and wellness tourism.
The market value of the marijuana-related business is said to be 40 billion baht ($1.15 billion), which is expected to grow to 70 billion baht by 2024, according to the Thai Industrial Hemp Trade Association. The Global Cannabis Report says the legal market is currently worth $100 billion globally.
As far as the high tourism season of Thailand is concerned, the country gears up for the arrival of the backpackers demanding different kinds of high in Asian countries. This tourist destination here comes with a dream of buying and selling cannabis where nobody is disturbed in the process.

Since, the rule is there in the country, it must be there on the greens as well. Thailand has been called the golf capital of Asia as it is a popular destination for golf, attracting large numbers of golfers from Japan, Korea , Singapore, South Africa and other western countries.
The relationship between golf and hemp is bleary and misty, whether this relationship has any future or not! Possibly the smoke on the course is blurring the impact it has on the game. Is it true?
Thailand, the weed wonderland has all the greens for your little green smoke, believe it or not, followed by other countries as well.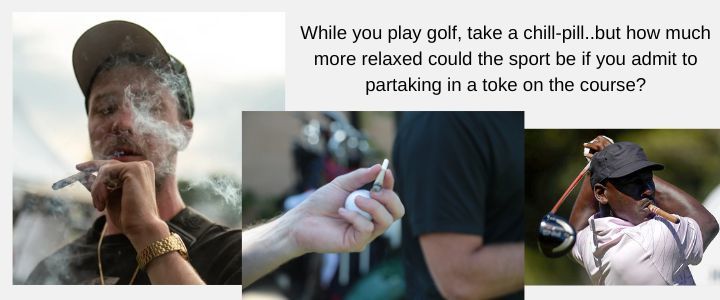 "No one is actually bothered , everyone is doing it," said a local-area golfer. It is such a stupendous game with a relatively safe place for some marijuana smokers where you can get quite far away to prowl under some tree for a smoke.
We all want to run into a scenario where golf meets the grass at some point, right? Fire up your joints and bluetooth speakers on the first tee and there you go away and away.


Now , the golf associations are also pressing this hot button of Marijuana, including PGA Tour, where players like Tiger Woods and Phil Mickelson were linked to chewing CBD-infused gum at tournaments.

If ever someone has a time and opportunity to sneak into the medicine cabinets of these golfers , the major presence of CBD brands can be witnessed. Try once!

This circumstance is still in the consideration of the PGA Tour's drug policy , where players who got suspended from the tour for violating such policies suggested few amendments into this concern.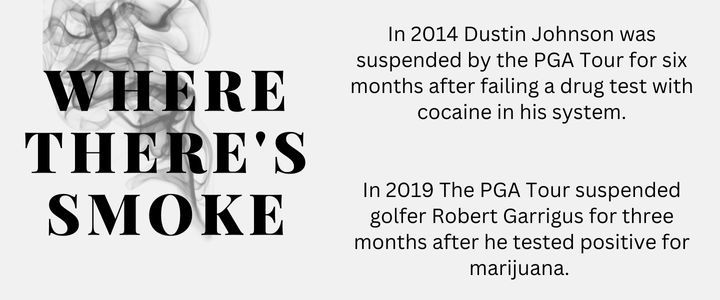 Lists adds on with the names like Doug Barron, Bhavik Patel and Scott Stallings who also faced disciplinary actions in the same category.


Having seen this move in Thailand, this process of legalization went globally covering Colombia , Israel , Denmark , Britain and the U.S.

Someone must have played with smoking and vaping golfers at this Canadian course, Lombard Glen Golf Course in Ontario, that marketed itself in 2019 as North America's first "cannabis-themed golf course", but still this legalization is in debate for the neighbors including Malaysia and Singapore where the concerns over the usage needs to be discussed in the parliament houses. Besides being illegal it is taboo as well, especially in southeast Asia .