In the prestigious Australian master of the Amateurs tournament, Indian superstar, Avani Prashanth finished the tournament with an amazing tied 6th position and became the only Indian to make the cut.

Finishing the final round with two-over 75. She totalled 5-over 297. She had hit two birdies in that round at the magnificent Par 73 Southern Golf Club of Melbourne, Australia. Southern Golf Club has always been a highly regarded track - if a little unknown outside of Melbourne. She tied with Eunseo Choi of New Zealand and Kate McFarlane of Australia.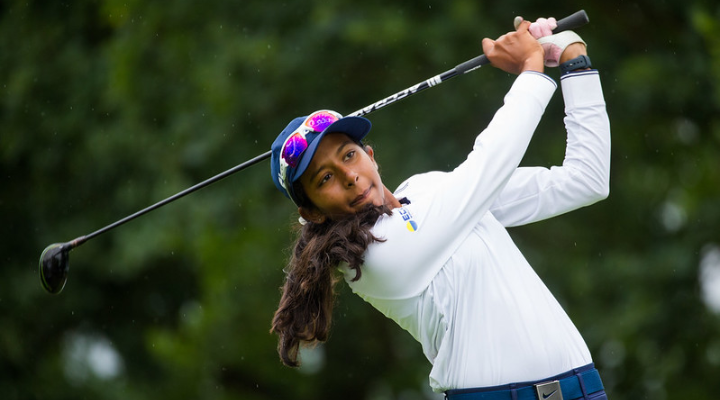 Avani Prashanth

Avani was doing really well by the end of third round where she had 6 birdies and one bogey, but the back nine of the final round pushed her to the 6th position when she got four bogeys on 10th, 12th, 14th and 16th. Nishna Patel of Mumbai shot 82-77-75 (15-over 234) to miss the 54-hole cut set at 10-over 229.

The tournament was won by Japan's Yuna Araki where in the final round she hit two-under 71. She got seven birdies and four bogeys in the same round. She played in extremely difficult conditions amidst swirling winds on the final day to finish the week at 12-under and six shots ahead of Japanese Mamika Shinchi (71), who was six-under 286 for four rounds.
Australian Master Of The Amateurs winners John Gough and Yuna Araki.

Aryan Roopa Anand, the two-time All India Amateur champion, and Shaurya Bhattacharya, the IGU's top-ranked amateur, represented India in the men's section of this tournament. Bhattacharya shot 75-74-71 (4-over 220) to miss the 54-hole cut by a stroke while Anand struggled, shooting 77-81-74 (16-over 232) to miss the cut.

The Australian Master of the Amateurs is a 72-hole play golf course which has lately been known as one of the elite championships in Amateur Golf. The field for the 2023 Australian Master of the Amateurs Championship consisted of 102 male players and 54 female players.

All eyes will now shift to the Australian Amateur Championship conducted by Golf Australia that will take place from January 10 to 13 at the New South Wales Golf Club and St Michael's GC near Sydney.
Among the players who played at Melbourne, Avani, Aryan and Shaurya will be joined by Punjab's Yuvraj Singh and Milind Soni of Telangana for the AAC.

Both the Melbourne and Sydney events will earn points counting toward the World Amateur Golf Rankings.