At the Honda LPGA Thailand 2023 National Qualifiers held at Siam Country Club Rolling Hills in Pattaya, Natthakritta Vongtaveelap earned a place to compete in the 16th edition of Honda LPGA Thailand 2023 which will be held at Siam Country Club Old Course in Pattaya from February 23rd - 26th, 2023.
Siriporn Srisuk (right), Public Relations and Event Marketing Department Manager,Honda Automobile (Thailand) Co., Ltd. and Winnie Heng (left), Senior Vice President and Managing Director of IMG Services (Thailand) award Natthakritta Vongtaveelap (middle), Winner of the Honda LPGA Thailand 2023 National Qualifiers.
The National Qualifiers are taking place for 5 years and are a part of the Road to Honda LPGA Thailand initiative, which helps in granting an opportunity to budding local amateur and professional players to compete for a spot at the Honda LPGA Thailand. It aims to promote and elevate the country's golf industry, allowing Thai golfers to experience international tournaments alongside other world-class female players. There is now an increased prize purse of $1.7M for the tournament.

The qualifiers saw 69 professional and amateur golfers from January 9th-10th, 2023.

Vongtaveelap hit a two-day 10-under-par and closed with a 68 in the second and final round today to win by one stroke from Kornkamol Sukaree.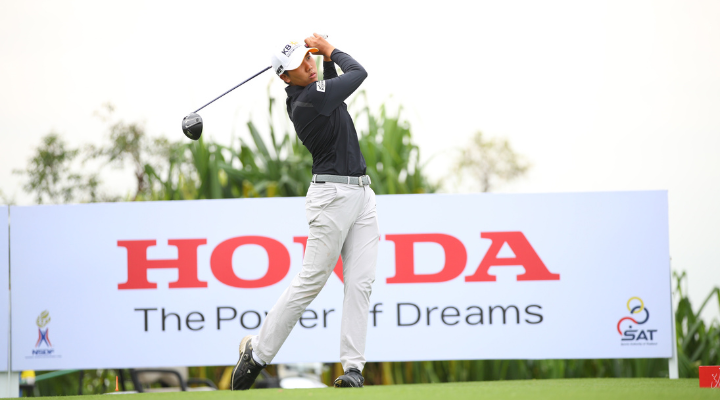 Natthakritta Vongtaveelap


Delighted with her deserved win, Vongtaveelap said: "I am happy with the victory because it was not easy and there were many good players in the field. There were a lot of nerves out there on the course. I put in
a lot of training for this tournament and I am pleased it paid off here. This is a very proud moment for me to qualify for the Honda LPGA Thailand 2023 and I'm sure it will be an amazing experience for all of us in the Championship."
"I would like to thank Honda, the Sports Authority of Thailand, IMG, and all the others involved for organizing this tournament and especially for giving young golfers like myself this big opportunity. I would also like to thank my family, friends, and coach for their support in getting me here today. I am also grateful to Mo, May and Jeen for inspiring me throughout my professional golf journey. Now I look forward to the Honda LPGA Thailand 2023 in February, where I will do my best and hopefully make them proud again".


Past winners include Benyapa Niphatsophon (National Qualifiers Champion 2019), Rina Tatematsu (National Qualifiers Champion 2020) and Chanettee Wannasaen (National Qualifiers Champion 2021 and 2022). A proven and effective platform to launch professional careers, it was recently announced that a total of 5 new Thai players have earned their LPGA tour card for the next season, all of which were previously involved in the Honda LPGA Thailand National Qualifiers.
Natthakritta Vongtaveelap holding trophy


Additional efforts of the Road to Honda LPGA Thailand initiative include the Junior Golf Clinic, a training session for teenage golfers with a professional player and the Young Ambassadors Programme, targeted at students interested in sports management and providing them the opportunity to join the organising team behind the tournament.
The Honda LPGA Thailand 2023 is delighted to welcome public spectators back on the course as the excitement-filled golf tournament returns in full force to elevate Thailand's professional golf scene. Golf fans under 16 and over 60 years of age are invited to attend free of charge.
Vongtaveelap will be competing at the tournament with 71 world-class golfers, featuring the nation's top female golfers like Jeen-Atthaya Thitikul, Patty Tavatanakit and local fan favorites May-Ariya Jutanugarn and Mo-Moriya Jutanugarn.

Fans can now purchase tickets via the website at www.hondalpgathailand.com.