Sri Lankan golfer N. Thangaraja achieved a remarkable victory in the inaugural Vizag Open, ending a five-year title drought on the TATA Steel PGTI circuit. Thangaraja, based in Colombo, pulled off a stunning comeback in the final round, carding an impressive six-under 66, the best score of the day. He had started the day tied for ninth place and trailing the leader by seven strokes but managed to secure victory by a single stroke, finishing at eight-under 280 at the East Point Golf Club in Visakhapatnam.
Sri Lankan Golfer N. Thangaraja Stages Remarkable Comeback to Win Inaugural Vizag Open
Akshay Sharma of Chandigarh secured the runner-up position with a total score of seven-under 281, following a final round of 73. Meanwhile, a group of four golfers, including Samarth Dwivedi, Om Prakash Chouhan, Saarthak Chhibber, and Harendra Gupta, tied for third place at six-under 282.
Thangaraja, affectionately known as Thanga, earned a winner's check worth Rs. 15,00,000 and climbed from 24th to sixth place in the TATA Steel PGTI Rankings. This victory marked his 11th win on the PGTI tour, with two previous wins on the Sri Lankan Tour. The 42-year-old golfer, who will represent Sri Lanka at the Asian Games in Hangzhou, China, credited his success to his superb ball-striking and solid putting.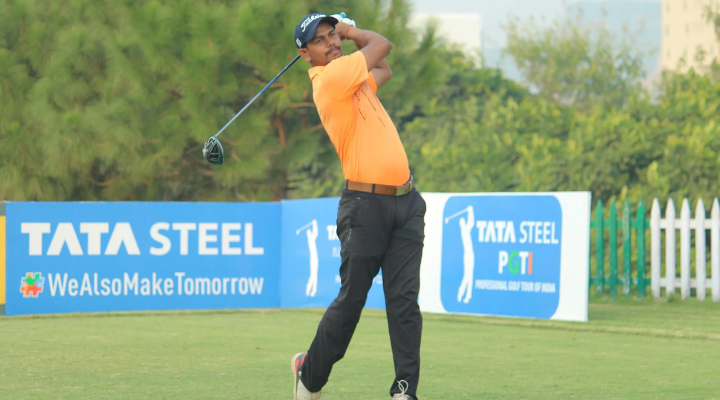 Akshay Sharma at Vizag Open 2023
Thangaraja's final round of 66 included early birdies on the second, fourth, and fifth holes, followed by another birdie on the seventh. He continued his stellar performance on the back-nine, securing a birdie on the 11th and a tap-in birdie on the 15th. Despite narrowly missing a few putts, he remained focused on his game plan.
While Thangaraja's performance soared, several other top contenders, including Akshay Sharma, Sunhit Bishnoi, Trishul Chinnappa, and Shivendra Singh Sisodia, struggled and shot over-par scores, dashing their hopes of victory. Sunhit Bishnoi, the third-round leader, finished in seventh place at five-under 283, with Trishul and Shivendra two shots behind, tied for eighth.
Thangaraja expressed his satisfaction with the win, emphasizing the challenge posed by the EPGC course. He also credited his friend and fellow professional C. Muniyappa for his club-fitting expertise, which played a significant role in improving his game. Akshay Sharma's second-place finish elevated him to 15th place on the PGTI money list.
Om Prakash Chouhan from Mhow, who tied for third in Vizag, maintained his lead in the TATA Steel PGTI Rankings with season earnings of Rs. 68,03,042. Visakhapatnam's Rahman Mehboob Shorif finished tied for 49th place with a score of 12-over 300.