Sabah, a Malaysian state located on the island of Borneo, offers a remarkable blend of stunning natural beauty and world-class golf courses. With its lush rainforests, pristine beaches, and diverse wildlife, Sabah is an ideal destination for golf enthusiasts seeking a unique and unforgettable leisure experience. This article explores the captivating golf and leisure opportunities in Sabah, Malaysia, highlighting some of the top golf courses and attractions that make it a golfer's paradise.
Group of golfers at Sabah : Courtesy - Malaysia Toursim
Tee Off Amidst Spectacular Scenery: Kota Kinabalu
Sutera Harbour Golf & Country Club
Sabah boasts several picturesque golf courses that allow players to immerse themselves in breathtaking landscapes. One such gem is the Sutera Harbour Golf & Country Club, nestled between the shimmering South China Sea and the magnificent Mount Kinabalu. This 27-hole championship course offers golfers not only a challenging game but also stunning panoramic views.
Golf Courses for Every Skill Level: Vacay at Shangri la
Shangri la hotel Rasa Ria, Kota Kinabalu
With 499 elegant rooms and suites, Shangri-La Rasa Ria, Kota Kinabalu, showcases timeless Sabah heritage throughout and nestles within captivating scenery. Rooms offer nature-inspired luxurious furnishings along with traditional Malay accents to create a serene tropical ambience. Escape out of the city and journey into nature; where the sea meets the rainforest and a warm welcome awaits. Create memories at this 400-acre beach resort with a 3 km private beach, 64-acre forest reserve and 18-hole golf course. Soak in the sun, sand and the sea or enjoy the great outdoors with over 60 activities at the resort.
The Dalit Bay Golf & Country Club, part of Shangri la Hotel
Sabah caters to golfers of all abilities, with courses suitable for beginners and seasoned players alike. The Dalit Bay Golf & Country Club, designed by Ted Parslow, features a meticulously crafted layout with various tee positions to accommodate different skill levels. Whether you're a novice or an expert, you'll find a course that suits your preferences and challenges your game.
Eclectic Leisure Activities:
Kinabalu National Park
Beyond golf, Sabah offers a wide range of leisure activities to indulge in. Explore the majestic Kinabalu National Park, a UNESCO World Heritage Site, where you can hike through verdant trails and witness awe-inspiring flora and fauna. Discover the vibrant underwater world at the renowned Sipadan Island, renowned as one of the best diving destinations globally, or relax on the pristine white sands of the idyllic beaches in Kota Kinabalu.
Sipadan Island
Cultural Experiences:
Mari Mari Cultural Village
Immerse yourself in the rich cultural heritage of Sabah by visiting the Mari Mari Cultural Village. This living museum provides insights into the traditional lifestyles and customs of various indigenous tribes in Sabah. Engage in cultural demonstrations, sample local delicacies, and gain a deeper understanding of the region's diverse cultural tapestry.
Wildlife Encounters: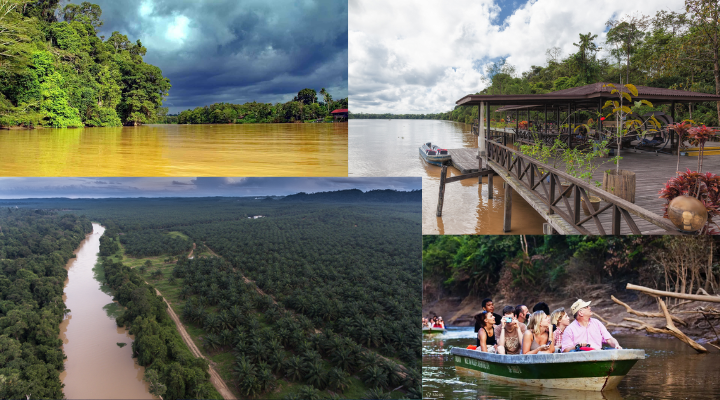 Kinabatangan River
Sabah is home to incredible biodiversity, and golfers can embark on wildlife adventures during their visit. Take a river cruise along the Kinabatangan River, where you may spot proboscis monkeys, orangutans, and pygmy elephants in their natural habitat. For a close encounter with endangered sea turtles, visit the Turtle Islands Park and witness the fascinating nesting and hatching processes.
Conclusion:
Sabah in Malaysia offers a captivating blend of golfing excellence and leisure pursuits amidst awe-inspiring natural beauty. From world-class golf courses set against stunning backdrops to the exploration of vibrant ecosystems and cultural immersion, Sabah provides an extraordinary golf and leisure experience for all. Embark on an unforgettable journey to Sabah and create lasting memories while indulging in your passion for golf and leisure.
Read More stories - https://4moles.com/golfing-news/golfer-on-road-to-2024-olympics