Anirban Lahiri secured a second-place finish at the LIV Golf Chicago event, narrowly trailing behind his team captain, Bryson DeChambeau, by just one point. While he continues to pursue his first individual victory, the triumph of his team in the tournament left him with a strong sense of satisfaction.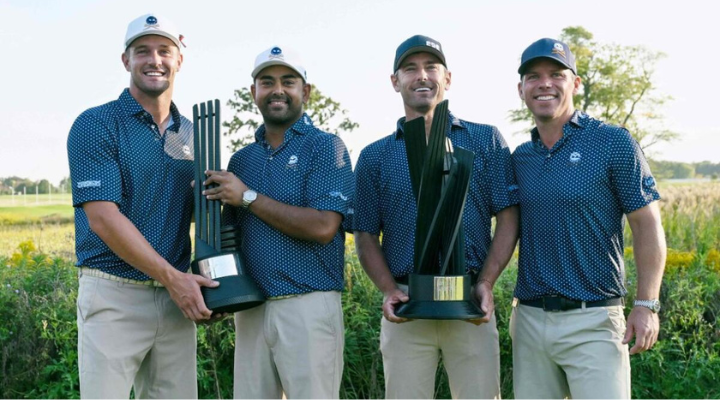 From left - Bryson DeChambeau, Anirban Lahiri, Charles Howell III, and Paul Casey pose with the trophy after winning the LIV Golf Invitational - Chicago at Rich Harvest Farms Illinois.
Following his impressive performance at Rich Harvest Farms, Anirban Lahiri, along with his three teammates, addressed the press. Despite missing out on the opportunity to force a playoff on the 18th hole, Lahiri expressed contentment with the overall outcome, particularly the team's collective performance.
In a statement quoted by the LIV Golf news service, Lahiri remarked, "I believe that all four of us share the same perspective - our primary aim is to win the tournament outright. That's certainly how I approach it, and I think anyone suggesting otherwise is not being truthful. However, we were all fully aware of the importance of securing a team victory, and we were determined to achieve it."
He went on to highlight the team's recent consistent performance, saying, "If you examine our results from the last few events, it's evident that we've consistently been on the podium. Even when we faced challenges, like the tough day we had yesterday, it underscores the depth of our team and our unwavering support for one another. We share a collective determination to succeed."
Lahiri also expressed the team's motivation to rectify their previous year's performance, stating, "Our dissatisfaction with last year's outcome has fueled our desire to make amends. Our late-season form is showing promise, and we aim to carry this momentum forward for the remaining two weeks."
Anirban Lahiri concluded the LIV Golf Chicago event with a score of -12. He found himself tied with Bryson DeChambeau on the 18th hole, holding the opportunity for both a victory and a playoff in his hands. Regrettably, he ultimately finished with a bogey after a three-putt, resulting in his second-place finish.