The DGC Open 2023 presented by Mastercard is won by Filipino professional golfer Miguel Tabuena who shot an 12-under ( 68, 71, 72, 65) in a bogey free final round at Delhi Golf Club. He accounted for seven birdies in the final round. Miguel was watching the final strokes for Rashid. The real emotions for the winner came up when he talked back at his home sharing his victory news at the DGC Open 2023 presented by Mastercard. He said, " I have been playing very well for this tournament. I was very happy how I managed to execute the shot as it is very easy to get aggressive in the Delhi Golf Club." " A bogey free round is one of the best experiences for me and this was one of the best round of my career on a sunday" " I am certaining going to work harder for the coming years. i was using 3-irons and 4 irons instead of using drivers here in Delhi Golf Club"
Yesterday he was six shots behind Rashid Khan where he got 7-under on the final day, being one shot ahead of Rashid. Miguel Tabuena had his first win after 5 years, as he got his win in his home country IN 2015. He took a prize money of $135,000.00
Miguel Tabuena from Philippines

Rashid Khan stood at a solo second position at the DGC Open 2023 presented by Mastercard, hitting a birdie on the last hole.At 17th he almost got an eagle chip but missed it badly on the sand and ended with a bogey on the 17th.
Initially Rashid Khan maintained his constant swing when he started his final round at DGC Open 2023 presented by Mastercard where he parred all the holes on the front nine except one on 8th. While playing on the 9th, Rashid khan got his first shot in the bushes and missed that one shot on the fairways and then hit a par shot on the hole. Making sure that he should have a bogey free round on the final day of the tournament at Delhi Golf Club, he birdied three holes on the back nine and parred the rest. He seemed to be quite aggressive when he lost the last hole. He had a total score of 11-under ( 67, 70, 68, 72). He won a prize money of $82,500.00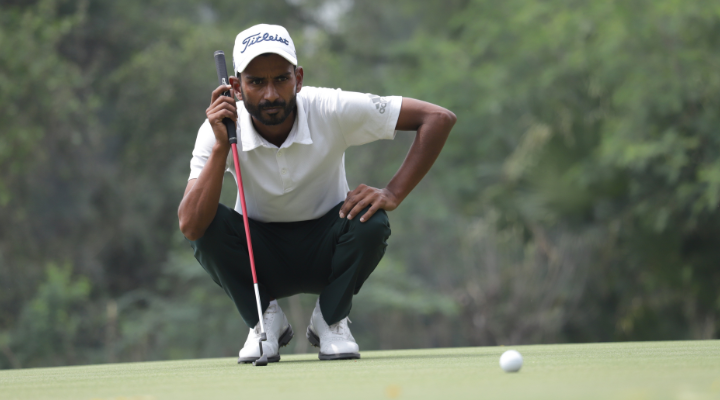 Rashid Khan

Third place was earned by thai star Chapchai Nirat got a score of 10-under ( 68, 71, 71, 68) when he played at the Delhi Golf Club accounting for 5 birdies till 12th and two bogeys on 5th and 13th while he was still playing for the day. As the day ended, he had six birdies and two bogeys in his account. He won an amount of $47,250.00
Standing on the solo 4th place, another Indian star Chikkarangappa S has accounted for an 8-under (68,66,74,72) as he got 2 bogeys on the 4th and 9th, Chikka hit on the apron for his third shot and successfully chipped it out on the greens making a bogey on that hole. To maintain his focus while chipping on the 9th, he said, " Can the people on the back be still, please don't move". Prior to his bogey on 9th, he accounted for two consecutive birdies on the 7th and 8th. He was pleased with his performance on the last two holes where he parred the 17th and birdied the 18th impressively. He got a prize money of $37,500.00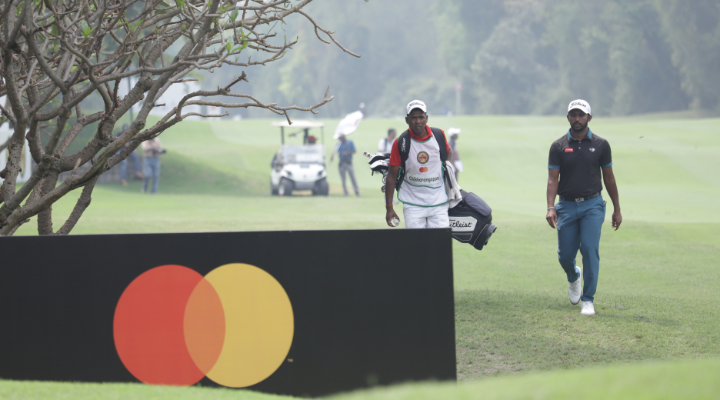 Chikkarangappa S at DGC Open presented by Mastercard

Playing together on the final day, Chikkarangappa, Khan and Honey Baisoya had all the eyes of the audience.
S.S.P Chawrasia went for a bogey free round, accounting for three birdies on 1st, 3rd, 14th and 18th and successfully achieved his name in the Top-5. He played 7-under (72, 70, 71, 68). He took home a prize money of $30,750.00.
Om Prakash Chouhan who has maintained his position in the top-10 since the first day stood at Tied-6 along with fellow Indians Gaganjeet Bhullar and Honey Baisoya. He has two birdies on 7th and 15th with one bogey on 5th. The back nine went quite smooth as he parred most of his holes except a birdie on 15th. Om putted well on the 9th as he went for a good birdie swing for his third shot which landed right on the greens.

Gaganjit Bhullar on the 9th putted while hearing great cheers and clapping from the audience. Bhullar made four birdies on 4th, 8th and 10th and 16th with two bogeys on 2nd and 11th.
Honey Baisoya
Honey Baisoya, who was in the group with initial leaders who started with a birdie hit on the 1st, going into a bogey on the next and then going into four par shots on the next holes.
Leaderboard